The cordless right angle drill is something of a niche product. It's designed for a specific application: getting into tight spaces, tighter spaces than a compact cordless drill can go. But this is not just about getting into a tight spot to turn the occasional screw. If that's what you need you should look for a compact cordless screw driver. This category is for when you need a significant amount of power in a tight spot or when you need to drive in tight spots for extended periods.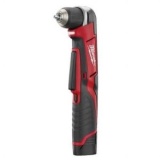 The winner in the right angle category is the Milwaukee 2415-21 M12 Cordless Right Angle Drill/Driver
.
It seems like the right angle model is the last to be updated when manufacturers update their lines. But there is now a Milwaukee M12 offering in a right angle drill. The M12 line is a great platform. I extensively reviewed the regular 12 volt model and found it to be a great performer. So while I haven't used this model personally, I feel comfortable recommending it after reading the reviews online. It seems to be just like its cousin in quality. So if you need something in the right angle form factor, this is the drill I'd go with.