Makita LXFD01CW Review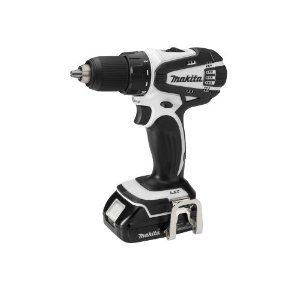 The 18 volt drill category is the one that makes or breaks a manufacturer. Regardless of what else they make, the 18 volt is going to be bought and used the most by professionals. And this is what their reputation will be based on. Makita has long been one of my favorite drills and they have a good reputation with me. But they did have some problems early on with this drill.
Most of the drills in this category have the same specs. They have a clutch, an LED light, two speeds, variable speed trigger, and they come in a kit with two batteries. There are slight differences in weight and torque and the warranty. And of course, the reliability varies. On the weight/torque front, the LXFD01CW is a little lighter than most and yet is on the higher end with the torque. For comparison it is 3.3 lbs versus the 3.7 lbs of the Bosch 36618-02 and it has 480 in-lbs of torque versus the Bosch. I would say this actually favors the Makita since you won't notice the torque difference, but you will notice the weight difference. However, it's all in what you want out of a drill. The warranty is 3 years on the tool and 1 year on the battery and charger. I wish they would have went to two years on the battery.
And that brings us to the reliability. It's apparent that Makita had some problems with the chuck early on in this drill. Several people reported run-out (wobble) in their chucks. And what makes me more concerned is that many said this problem developed over time, which says to me that the chuck was of poor quality. However, all of these drills are over a year old. Since the time I first reviewed this drill (about a year ago), the reviews have gotten much better. I haven't found a single person with a defective chuck in the last year. And the reviews have been much better. So this tells me the chuck problems are probably fixed. Also, I should note that of the people who had defective chucks, Makita was happy to fix their drills.
So with all of those caveats I don't think you'd be making a mistake by purchasing this Makita drill. Why would you purchase it over, say, the Bosch? Makita has quite a few other 18 volt tools that will use these same batteries, so it's not just the drill you're buying. It's the whole system you're buying into. And Makita is a little stronger in this area.
Check it out for yourself at Amazon.