Makita FD02W Review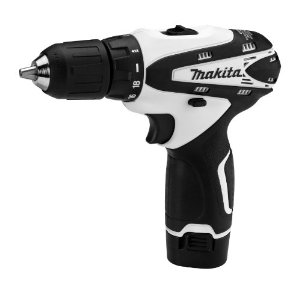 The 12 volt drill category is a competitive category. I discussed the category itself in my review of the Hitachi DS10DFL. Suffice it to say that this category is now the go-to place for "home-use" drills.
The FD02W is Makita's offering into this competitive marketplace. Most of these have about the same specs. It's just over 2 pounds and has 200 in-lbs of torque. It has a clutch, variable speed trigger, and two speed settings (max RPM of 1300). It has a built-in LED light and comes with two batteries. It has a 3 year warranty on the tool and 1 year on the battery. That part of the review reads the same for just about every drill in this category (except for minor variations).
So what makes this drill different? Mostly, it's a Makita. It's a good drill with a good company behind it. It's slightly more expensive than some of the other drills in this category but not by much. To me, that means the choice comes down to buying into a certain brand. Some of the manufacturers have lots of 12V tools that you could use these batteries in. Makita is one of the manufacturers. They have an impact driver, a circular saw, and a reciprocating saw just to name a few. Whether you want one of those right now or not you have to consider whether you may want one in the future. If you do, you'll be able to save quite a bit by going with the "tool-only" option since you already have the batteries. Milwaukee also has quite a few 12V tools. So think about which brand and line of tools you want to invest in.
As for the FD02W itself. Makita seems to have executed well on this product. The people that have it are happy with it. So if you're looking for an entry into the 12V category, you can't go wrong here.
Check it out at Amazon.