Makita DF010DSE Review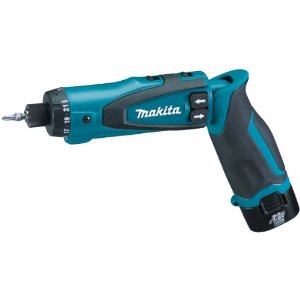 This cordless offering from Makita is similar to the Hitachi DB3DL. Compared to the Hitachi this drill is slightly heavier, but that's mostly due to the larger battery. It also costs more. They have the same torque. All things considered, this is the screwdriver you want to go with if you need extended runtime. It also has two batteries so you should be able to run the screwdriver all day if you keep charging the battery you're not using.
The screwdriver does have an LED light which is handy, but I have the same complaint for this screwdriver as I do many others in this categories. It does not have a variable speed trigger. The 2 speeds are 200 and 650 rpms. In my opinion a variable speed trigger is most useful when assembling and driving screws. You'll still be able to work with this drill but I wish there were more options with variable speed triggers.
Since this screwdriver is mostly for assembling and light driving it has a twenty-one position clutch so you can keep from overdriving or stripping screws. All in all this is a good choice for professionals that will use a tool like this extensively. The larger battery will save you time and headache. This Makita drill has also racked up several good reviews on Amazon so you have the confidence that several people have bought them and fared well.
Check it out at Amazon.