Hitachi DS10DFL Review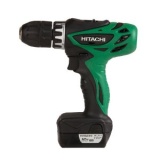 The 12 volt drill category is tough to judge. In many ways the 12v drill is the new 18v drill. As battery technology has gotten better, the smaller drills perform as well as the larger drills from yesteryear. The 12 volt drill replaced the 14.4v line and it also became compelling enough to bring in some of the people who would buy an 18 volt drill. Enter the Hitachi DS10DFL. I used to recommend the Ni-Cad version of this drill. It was a great, cheap offering. Now that Hitachi has updated the line to Lithium ion batteries we have an even better product. (The price did go up a little with the update, but this is still a great value.)
The DS10DFL has 195 in-lbs of torque. That's enough for all of the "around-the-house" jobs. In fact it's powerful enough for most carpentry jobs. I could see a general contractor using this as his/her main drill. Of course, they would need a hammer drill, either a corded model and a long extension cord, or a powerful cordless model. But 90% of the time they would use this drill, and it would serve them well because it can do most of the things you use a drill for. And at 2.2 lbs that contractor would be glad to have this lighter model to replace whatever else they used for most of their work, which was sure to be heavier and more cumbersome.
Some of the details: it includes an LED light, a 21 stage clutch, two batteries, a variable speed trigger, and a lifetime warranty on the tool and 2 years warranty on the batteries. Everyone says the batteries charge "very quick" but I could not confirm exactly how long it takes to charge a battery. Suffice it to say that with two batteries you should be OK as long you start charging a battery as soon as you empty it. This wasn't always the case with older batteries and still isn't the case with some li-ions. But you should be good on charging front here.
All in all I think this is a great offering from Hitachi. I've used the competitor from Milwaukee extensively and it's a great drill. Bosch and Makita have great drills in this category too. But depending on where you buy the Hitachi is likely to be the cheapest option. And for that reason I think it's a great value and it's the one I would buy if I were looking for a "home-use" drill right now.
Check it out at Amazon.