Hitachi DB3DL Review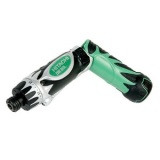 The format of the DB3DL is what's commonly called a stick driver. It's normally a long, skinny cylinder. But it also has a hinge in the middle so it can transform into a "pistol-grip" model. This makes these types of drills quite flexible for getting into small spaces. This particular drill is also a good performer. Hitachi has hit a sweet spot of weight, power and battery life. Forty-four inch pounds of torque is enough to handle all of the assembling tasks as well as some light driving. The battery lasts a good while, charges in just 30 minutes when it does die. And it comes with 2 batteries so you should never need to worry about your battery running out as long as you remember to charge. Hitachi managed to fit all of this in a package that weighs less than a pound.
My singular complaint for this drill is it's not variable speed. It does have 2 speeds: 200 and 600 rpms, but you can't ease on the trigger and have it barely spin. It's either 0 rpm or 200 rpm. Two hundred rpm is slow enough that it's not a major problem. It's more of an annoyance. But you'd rather have variable speed than not, so I still count it as a complaint.
It also has a clutch which I don't think you'll use very much on a drill of this size. There's just not enough torque to be accidentally using too much very often. But it's there if you need it. Maybe it will come in handy for delicate work. Also this drill has been around for a little while and it's racked up enough good reviews on Amazon for me to know it's working for a lot of people over the long haul.
Check it out at Amazon.