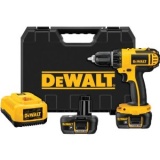 This 18V Lithium-ion offering from DeWalt is an extremely popular choice among cordless drill owners. DeWalt is one of the best known brands in cordless power tools. But how good is the DCD760KL in comparison to the competition and where can you find the best price if you want one?
One of the nice things about DeWalt is they have kept battery compatibility with the change to lithium ion. You can use these batteries in any DeWalt 18 volt product produced since 1996. I know that doesn't affect the quality of this drill and battery, but it's something to keep in mind when you choose a manufacturer, especially since cordless owners may want to buy several tools to go with their batteries. If you buy a circular saw, jig saw, etc. then get a new drill later on, will the new batteries work with the old tools? No one knows, but it's nice to know DeWalt has kept battery compatibility this far.
If you're used to DeWalt's NiCad products, you can expect a lighter, more nimble tool with better battery life. The batteries also don't lose charge as fast on the shelf. A NiCad battery will lose a significant amount of charge after 2 weeks on the shelf. A lithium ion battery will lose only a negligible amount. That's more important to home users who may leave the drill idle for a while between uses. This drill has a good, strong chuck, and one of the highlights is the 3 speed gearbox. After reading around quite a bit it seems the DCD760KL has one of the best gearboxes available. The overall sturdiness of the drill is quite good as well. There are many reports of banged up 760's that keep on ticking. That's backed up by a 3 year warranty on the drill and 2 years for the batteries.
Then there are the subjectives. A drill that "feels good" or has "good balance" to one person may not "feel good" to another. I think the best way to test these subjectives is to read A LOT of reviews (which I have done). If a drill "feels good" to a lot of people, then it's likely to feel good to you. The DeWalt shines in these subject qualities. I haven't heard from a single person that the DeWalt felt unbalanced or uncomfortable, and most were quite happy with the balance and feel of the DeWalt. They also though the trigger was responsive, easy to hit the right speed.
Other details. The DCD760KL has a built-in LED light like we've all come to expect. It also comes with 2 batteries like every high-end drill should. The weight is 4 pounds; the length 8.2 inches.
In summary, DeWalt DCD760KL is a solid product; durable, powerful, balanced. The best reason to buy one is if you have or are considering purchasing other DeWalt tools. DeWalt has kept battery compatibility for 15 years, and they make plenty of other tools that use the same batteries.
The best price you're going to find for the DCD760KL, factoring in shipping and taxes, is Amazon. Amazon is also the best place to research reviews from other people on this drill.
Check it out at Amazon.