Bosch PS31-2A Review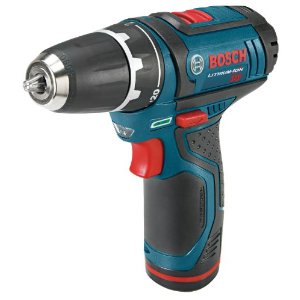 The PS31-2A is Bosch's entry into the important 12 volt category. I must say I was excited about this drill because I love Bosch's 18V drill and Bosch makes quality products in general. And true to Bosch's form they made one of the lightest and most powerful drills in the category. Really, at just 2 pounds and 265 in-lbs of torque, no one else matches that ratio of weight to power. The drill is also just 7 inches long making it one of the most compact as well. If it's the lightest smallest and most compact you might figure this drill is a slam dunk. Well, hold your horses. But first let's go through the features.
The PS31-2A is lightweight at just 2 pounds and compact at 7 inches long. It has 20 position clutch, a built-in LED light, a variable speed trigger and two speed settings that take it from 0-350 and 0-1300 RPM. It comes with 2 lithium-ion batteries and a carrying case. Bosch's warranty is 3 years. All of these features are pretty close to what everyone else is doing. The notable thing about Bosch's product here is that on paper it's the best all around besides the warranty. The price is not the cheapest, but it's not the most expensive either.
You will notice that the PS31-2A's ratings on Amazon are a little lower than comparable drills. This might not seem like a big deal at first, but if you read the reviews you'll see that a significant number of people complain about the chuck. They either say it wobbles or it slips. Many other people never had problems with their chucks. Others had problems and Bosch replaced the drill and they didn't have further problems. Honestly, the situation makes me a little worried, but if you trust Bosch, then you might still consider this drill since they are replacing the drills with problems and do seem to have corrected the problem in manufacturing. You can see for yourself at Amazon what people are saying.
Check it out at Amazon.