Bosch 36618-02 Review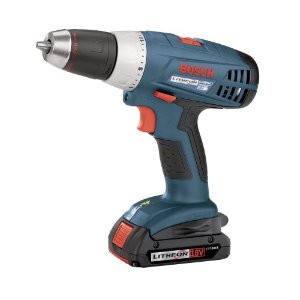 The 18 volt drill tends to be the flagship for a manufacturer. This format has long been the choice of professionals because it's about the size you can handle if you're using a drill all day for various applications. Over time these drills have gotten lighter, more powerful, and last longer between charges. This Bosch drill represents the latest gains on that front. At just 3.7 pounds it's one of the lighter drills in this space. And with 500 in-lbs of torque it's one of the most powerful.
Bosch has long been known for German quality. Like every manufacturer, not every product they make is perfect. When you're pushing the envelope there are going to be some flaws. But if there are any flaws in this drill, I can't find them. Neither could the many people I've talked too, nor the reviewers on the Internet. In 137 reviews at Amazon (at the time I write this), there is not a single 1-star review. There is a single 2-star and just two 3-star reviews. I review a lot of drills and read a lot of reviews and let me tell you, this is just unheard of. I have not found a single drill out there that is more universally liked than the Bosch 36618-02. This means that not only is Bosch making a quality product, but they're also controlling the quality going out the door very well. There are some other great drills out there, but if they have 50 reviews, there are at least a couple people that got duds. Here we have just 1 out 137.
As for the features of the drill, it's got everything you'd expect in this class. It has an LED light, 2 speeds, 20 position clutch, case with two batteries and a charger. The chuck is 1/2" and this drill has the power to driver the larger sizes. One of the nicer features is that the batteries charge in 30 minutes. That's extremely fast and with 2 batteries in the package it means you should never have to weight for a battery to charge. The warranty is also better than most at 2 years on the batteries and 3 years on the drill (replacement for 1st year and repair for the next 2).
That's about all there is to say. In the areas that really matter like quality, this drill shines above its competitors. The features are about the same as everybody else with the Bosch being slightly lighter and more powerful than most. And the price is somewhere in the middle, cheaper than some and more expensive than some.
Check it out for yourself at Amazon.