Black & Decker VP810 Review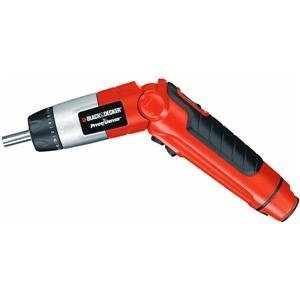 THe VP810 is in a different class from the other cordless screwdrivers I've reviewed. It's quite a bit smaller and much cheaper. But you don't have to give up torque for those advantages. This Versapak screwdriver has about as much torque as most of the larger models: 40 in-lbs. And although some of B&D's smaller products don't have removable batteries, the VP810 does. You only get 1 battery, but it's interchangeable with other Versapak tools, so if you buy a couple of these tools you'd have a couple batteries to use in any of the set.
Despite having the torque of some larger offerings this drill only has a 180 RPM speed. So you're not going to be doing much drilling with this tool. The VP810 is squarely designed as a fastener/assembler. That's OK with me because that's what I want in a product this size. If I wanted to do much drilling or driving I would move up to a 12 volt cordless drill. This product also does not have a clutch, but I don't think that's too much of a downside. One thing I do wish it had was a variable speed trigger. But it does not.
All in all this is a great product for what it is. Unless you are a professional who does a lot of fastening/assembling every day you probably don't want to spend very much on a cordless screwdriver. So you may be willing to sacrifice some runtime and some bells and whistles. But you still want a reliable product that does what it's designed to do. And that's what the Black and Decker VP810 does.
Check it out at Amazon.