I could go down a very long list of what makes Festool drills different. They are a product of German engineering. They have interchangeable chucks. They have brushless motors and an electronic clutch. Their batteries are backwards compatible. But what you need to know is that Festool products are in a class all of their own. When we talk about the best cordless drill we have a certain price in mind. For that reason Festool generally doesn't get to compete in those categories.

Brushless Motor
Festool drills are the only ones I know of that use brushless motors as opposed to brushed motors. (I had read somewhere that Panasonic uses brushless motors, but their specifications say otherwise.) If you want a more technical explanation of why brushless motors are better you can read up here. The short explanation is that brushed motors have brushes which make contact with the rotor as it spins. The friction slows down the motor and creates heat. So it's not surprising that brushless motors can last MUCH longer.
Interchangeable Chucks
The drill in the picture above is the Festool T15 + 3. As you can see it comes with three chucks. It has a regular 1/2" keyless chuck like other drills. The "eccentric" chuck let's you position where the bit is. It can be at the top, bottom, right, left, or any of the 16 positions. This lets you get into tight spots. And then it also comes with right angle chuck. That's right, it's also a right angle drill.
Electronic clutch
Most drills have physical clutches. In many cases physical controls are better than electronic, but not with cordless drill clutches. Physical clutches allow a certain amount of torque and then slip. That's wear and tear every time you use it. The drill is also working against itself, since the motor is putting out torque and the clutch is holding it back. With an electronic clutch, the motor only puts out as much torque as is needed. There's no extra wear and tear.
Backwards-compatible batteries
Festool has moved to higher energy density lithium-ion batteries like all of the other top drill manufacturers. But Festool's drills allow you to use the older batteries as well. This isn't surprising because Festool drills generally last much longer, so once you buy into the system you generally get to use your old parts. You can even use older NiCd batteries.
Best of the Best
Festool drills are in a class of their own. There are no other drills that even come close to the features, precision, performance, and reliability of Festool drills. But they also cost over twice what other drills cost. But you can expect them to last longer too. But if you want the absolute best cordless drill, then you want a festool:

Research the Festool T 15 + 3 14.4-Volt Lithium-Ion Cordless Drill/Driver Kit at Amazon
There's a new kid on the block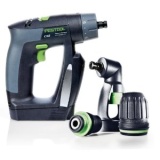 Festool recently came out with a new tool; the Festool 564274 CXS Compact Drill
. This drill is meant to be a lower priced entry than the T15+3. It DOES include the right angle chuck. The difference is it's a 10.8v drill and does not have a brushless motor. But it still has the quality you expect from Festool. At around $275 (actually Festool limits their distributors, so it's currently $275 no matter where you go), the price tag is slightly more palatable than its older cousin. Other drills in this class cost around $125, but they don't come with 3 chucks.
In summary it's an excellent but pricey compact cordless. If you have the money and want the best, this is a great choice. Just keep in mind it's a compact. It's elegant and agile, probably even wirey. But it's not an 18v drill and you'll be disappointed if that's what you're expecting. If you're looking for an alternative 18 volt drill this is not it. But if you're looking for a better compact cordless or 12 volt drill, this is it.