We know you've heard it many times before: you get what you pay for. If that was absolutely true, there would no reason for a site like this. You would just decide how much you want to pay and find a cordless drill for that much. But in my experience it tends to be true in the very general case. Festool Cordless Drills are by far the most expensive and also the best. But we recommend drills in some of our categories that we think are better than drills that cost more, like in the best 18 volt category. So if you're looking for a cheap cordless drill, you're still looking for the best value for your money. You're not going to get a Festool, but you can still get a quality drill and avoid the drills that aren't worth your time or money.
Cheapest Cordless drill

For the cheapest cordless drill we've selected the Black & Decker 9099KC 7-1/2-Volt Cordless Drill. It's not the absolute cheapest drill you can find, but we've think it's cheapest you should consider buying. Here's why we selected it:
60 pounds of torque is enough to handle the basic tasks, driving screws and drilling small holes.
Decent features: keyless chuck, two speeds, and a two year warranty.
You can read reviews from people who've used the drill and thought it was a good value.
Research the Black & Decker 7-1/2-Volt Cordless Drill at Amazon
Best Cheap Cordless drill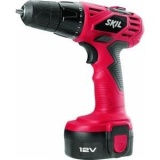 A step up from the cheapest cordless drill is the Skil 2240-01 12V Cordless Drill. This drill has more power and is faster than the absolute cheapest drill above. It will allow you to do jobs the other drill can't handle. Surprisingly for a drill this cheap, it comes with two batteries. If you don't use your drill that often and just want something cheap that can get the job done, this is a great choice.
Research the Skil 2240-01 12-Volt Drill at Amazon