The 36 volt drill is the largest, most powerful cordless you can get. That said, people may still have different idea of what a 36 volt drill should be. There's portable in the sense that something can be moved. But mobile means something is easily used while on the go. And that's why I have two picks here.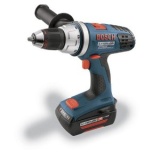 The best all-around (mobile) 36 volt drill is the Bosch 38636-01 36-Volt Litheon Drill.
Think of this drill as a better 18v drill. It has more torque, more run time, and it's more durable than almost any 18 volt drill. And it's not that much heavier. I think there are many people looking for "good" 18v that would actually be happier with this drill because it's not that much heavier or larger, while it is more powerful. You could conceivably use this as your only drill. Though there are better choices for lighter drilling/driving this drill is light enough for everyday work. And it's powerful enough (600 in-lbs) to handle jobs smaller drills would have to cede to a corded drill. If that's the type of thing you're looking for, then this is your drill.
But I realize that's not the drill some people are looking for in the 36 volt category. There are drills that are portable. That is, you can take them with you and use them without an electrical socket nearby. But you can still drill through concrete ... quickly ... and not just for 2 minutes.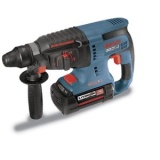 The best heavy duty (portable) 36 volt drill is the Bosch 11536VSR Litheon 36-Volt 1-Inch SDS-Plus Rotary Hammer.
At just under 10lbs this drill is both heavy and light. This is not a drill you want to use to build a deck or frame a house. It's too heavy and cumbersome. But if you need to drill through concrete for an extended period it's actually quite light. This drill has three modes: regular drill mode, rotary hammer, and hammer only. It only has 7 reviews on Amazon so far, but they are all 5 stars. Every one of them is surprised you can get this much performance in a battery drill. Even if you have access to electricity, when you're doing this type work, you may not want to deal with a heavy duty extension cord in addition to a heavy duty drill. If you don't have access to electricity your other option is a gas powered tool. This is far more convenient and easier to use. Though if you need to use the tool all day you will have to bring a generator along to charge the batteries. But that's still a far better option. In many ways this tool is revolutionary.