This is the category I spend the most time on. It's the most important recommendation to get right. 18 volt drills are the flagships of a drill lineup. It's the size chosen by the market as the leader. A drill designer has enough room to pack in all of the features you need, but it's not so large that you can go overboard. An 18 volt needs to be versatile because it's the only drill many professionals will take with them to a job. It needs to be lightweight because many professionals will use it all day; every day. And it needs to stand up to that abuse every day over time.
| | | | | | |
| --- | --- | --- | --- | --- | --- |
| Categories | Bosch 33618-02 | Milwaukee 2601-22 | DeWalt DCD760KL | Makita LXFD01CW | Skil 2898LI-02 |
| Torque (in-lbs) | 500 | 400 | N/A* | 480 | 400 |
| Weight (lbs) | 3.7 | 4 | 4 | 3.3 | 3 |
| Avg. Rating at Amazon (# reviews) | 4.81 (119) | 3.63 (120) | 4.33 (60) | 4.12 (41) | 4.56 (9) |
| Summary of Reviews | Almost universally great reviews with 119 reviewers. People like everything about this drill. | The lower rating seems to be from several people getting defective batteries. | Overall well liked. Seems a few people got defective batteries. | Several people say the chuck makes their bits "wobble." | Not many reviews; most loved it; one guy says the construction was shoddy (plastic housing). |
* DeWalt does not give torque ratings for their drills anymore.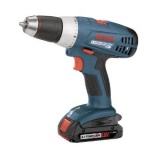 The data is conclusive. The clear choice is the Bosch 36618-02 18-Volt 1/2-Inch Compact-Tough Litheon Drill
as the best 18v cordless drill.
I used to recommend the Makita offering in this space, but too many people were claiming a faulty chuck. And Bosch's newest 18 volt has more torque and more speed than Makita's. And this drill is more loved by it's users than any other drill I could find in this category. At Amazon, out of 119 reviews there is a only a single 2 star and a single 3 star review. The rest are 4's and 5's and the vast majority of those are 5 star reviews.
Bosch opted to use their slim batteries as the default battery here with 1.3 amp*hour capacity (versus 2.6 for regular batteries). The reasoning is that Li-Ion batteries charge much faster, just 15 minutes to 85% and 30 minutes to full capacity. Since you get two batteries with the drill you should never run out of juice if you remember to put the spare on charge. The upside is that you save a lot of weight and some size in the height.
If you want the higher capacity batteries your best best is the Bosch 17618-01 18-Volt Brute Tough Hammer Drill
which comes with 2 fat pack batteries (as well as the hammer function, more torque and more speed).